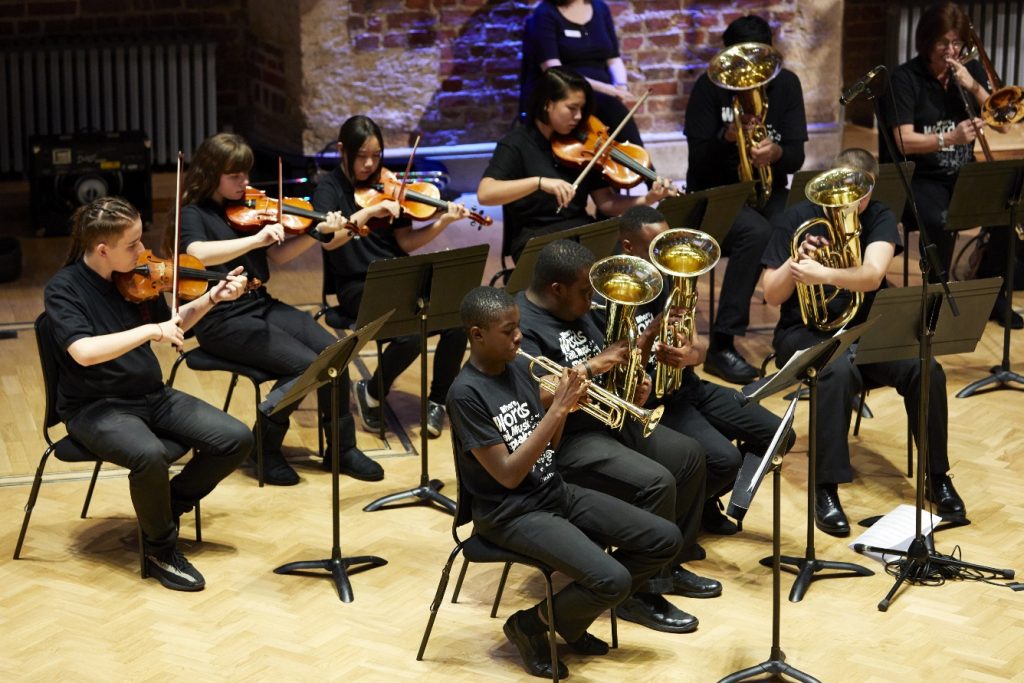 Programme 1 Whole Class Ensemble Teaching (WCET)
The programme is for:
teaching delivered between September 2022 – July 2023.
1 class x 1 hour WCET;
one or two tutors for 35 weeks per annum with a range of orchestral and percussion instruments offered. With two teachers there is the option of two different instruments being taught together, e.g., clarinet and trumpet; delivery, insurance and hire of all instruments. NB. in the unlikely event of serious damage or loss of an instrument the school will be required to pay a £55 excess fee even if the replacement cost is higher. If the instrument replacement value is lower only the actual replacement cost will be required;
membership of a beginner ensemble in summer term 2023;
all teaching resources and online pupil practice books provided by the CMS;
whole school membership of Charanga with all WCET pupils being issued an individual login – these can be accessed via individual pupil Charanga logins or the CMS website.
a minimum one performance per year for the school and parents/carers.
Music Mark membership (following completion of the school's music self-evaluation form).
Programme 2 WCET Instrumental Continuation including core
WCET Instrumental Continuation including allocated hours.
After a year of learning as part of a whole class, pupils are encouraged to continue learning their instrument in small group lessons. Each school is allocated instrumental teaching hours between 30 minutes to 2 hours depending on pupil numbers. If more is required, additional time may be purchased by the school/s. (N.B. Please note the possibility of a school client partnership). A school/s may choose to pass some or all the additional costs on to parents/carers. (Please see appendices 3 and 4 for information re: charging.)
All pupils are provided with a 'continuation pack' which includes a tutor book plus hire and insurance of the instrument for a year.
This programme runs for 35 weeks.
All teaching provided by the CMS.
Lessons can be of 15, 20 or 30 minutes duration.
A 'continuation pack' is available, paid for by the family.
Membership of a CMS ensemble according to ability (termly membership fee required with fee remission available in appropriate circumstances), including public performances and enhanced opportunities through partnerships with professional orchestras/institutions.
Programme 3 Extra Curricula Activities
1 x 30/45 minutes lunch time or after school session for 30/35 weeks. Target learners: pupils, staff, family, intergenerational or age specific.
Tuition may include: school instrumental ensembles, musicianship, recorder, drumming, vocal work or choir, percussion, guitar, keyboard, composition/improvisation.
Hire of instruments is negotiable.
Programme 4 Classroom Curriculum Support
The CMS can also provide curriculum and vocal support in school settings.
Programme 5 Primary Support or Bespoke
A bespoke face to face consultancy is available to support in the delivery and management of high-quality music throughout the school. Consultancy options and support to include:
Support and advice in the recruitment and selection of music leaders.
Early Years and Foundation Stage.
Music Audit.
Lesson observation and peer moderation.
Assistance with the development of primary music technology and resources.
Assistance with entering festivals, school productions, heritage projects or arts awards.
A bespoke, class instrumental teaching model.
Close
Programme 1 Instrumental and Vocal Tuition Provision
CMS supports all KS2 Instrumental pupils at the point of transition into year 7 and encourages continuation of learning into KS3 and beyond in line with Core role 3 of the National Plan for Music Education. NPME
Instruments offered
Woodwind – Flute, Clarinet, Oboe, Bassoon, Saxophone;
Brass -Trumpet/Cornet, French Horn, Baritone/Euphonium, Trombone, Tuba;
Strings – Violin, Viola, Cello and Double Bass;
Voice
Other – Piano/Keyboard, Acoustic and Electric Guitars, Drum Kit and Percussion.
The Music Education Hub – through CMS – will also signpost schools to other provision if required and if available.
Pattern of Provision
Targets are set for all students, who are assessed termly with attainment documented.
CMS encourages all students to engage with one of our ensembles appropriate to their ability. Ensembles meet weekly and concerts are given each term.
CMS provides 2 Internal Exams at approx. Grades 1 and 2 Level; more advanced students are prepared for and encouraged to take external exams such as those provided by RockSchool, ABRSM, Trinity Guildhall, Registry of Guitar Tutors (RGT)London College of Music etc.
CMS provides regular performance opportunities at termly recital evenings, and will assist students in preparing for school performances in concerts and assemblies etc.
Students are encouraged to continue learning throughout their secondary education and beyond. CMS teachers can recommend suitable repertoire and/or support students in the preparation of their own choices, including for the performance elements of GCSE and 'A' Level Music.
CMS works closely and in partnership with Music Education Hub partners, the LSO, Barbican & Guildhall School of Music &Drama (BGSMD) and Thames Reach Youth (TRY) Orchestra, providing opportunities for selected students to perform with other students from other East London Boroughs.
Programme 2 Instrumental and Vocal Tuition
Schools are allocated core provision hours according to pupil population. Additional hours can be purchased, discount for multiple hours purchased is given. The cost of the lessons can be paid for by the school or the school may choose to pass the cost on to parents/carers.
Students are taught in small groups and individually, dependent on instrument numbers and attainment. Lessons are of 15, 20 or 30 minutes duration.
15 mins – 1 student
20 mins – up to 3 students
30 mins – up to 6 students
Students are grouped according to the instrument they play and their level or ability. Students who reach grade 6 standard are allocated a 30 minute individual lesson.
Lessons will be taught on weekly rotas organised in conjunction with the teacher and the school. Lessons can be timetabled both during and after school to suit the students and the school.
Programme 3 Ensemble Tuition
CMS will provide bespoke onsite Ensemble Tuition on request. This could be in the form of weekly 30-45 minute rehearsals for a Wind Band, Brass Group, String Orchestra, Orchestra, Jazz Band etc. Rehearsals will take place across 30 or 35 weeks per academic year. Repertoire will be sourced and arranged for the students at the school, and performance opportunities in school concerts can be included within the 35 weeks in collaboration with the teacher/ensemble leader.
Programme 5b Secondary Advisory Support
A bespoke face-to-face consultancy is available to support in the delivery and management of high-quality music throughout the school. Consultancy options and support to include:
Support and advice in the recruitment and selection of music heads of department/teachers
Curriculum support and advice
Music Departmental Audit (including preparation for 'deep dive')
Lesson observation and peer moderation
Assistance with the development of resources
Assistance with Artsmark and Arts awards
Close